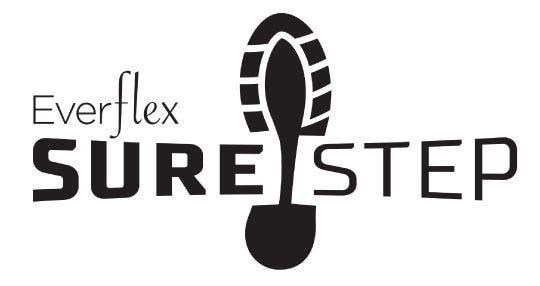 ---
SLIP RESISTANT
MAXIMUM COMFORT INNERSOLE 
Say hello to our new slip resistant range developed by Everflex SureStep. Our slip resistant shoes are specially designed for the employees of the hospitality and aged care industries.
Slip resistant shoes are vital in workplaces where oil, grease, water, or other slippery surfaces may be present. This many include jobs in food and hospitality, nursing, fast food, retail, cleaning, factories, or bartending and barista work. Many companies insist their employees have slip resistant footwear, which is why Spendless has opened a whole range to cater to them.
Why risk injury by wearing inadequate or inappropriate footwear? Slip resistant shoes are essential for reducing slips and falls in your workplace. You can be sure of your steps with SureStep!
Great features include:
- Slip resistant sole.
- Oil resistant outsole.
- Commercial grade non-marking rubber outsole.
- Heel impact cushioning for shock absorption and support.
- Flexible and padded innersole for all-day comfort.      


WHAT MAKES A GOOD SLIP RESITANT SHOE?
First, the tread! The Spendless Shoes SureStep range is designed with unique soles. This is where the slip resistance starts. Just like a hiking boot or any serious sports shoe, the bottom tread is very important. The sole of a SureStep shoe is designed for a better grip across slippery surfaces, so you can go about your business without stress.
SureStep shoes also feature a two-part outer sole featuring phylon and rubber. The rubber outsole is part of what keeps SureStep shoes oil resistant. Along with the padded collars on most styles, SureStep are comfortable and lightweight. They also do not contain latex, so there is no need to worry if you have a latex allergy.re made with special polyurethane upper— it has the sleek, shiny look of leather, but comes with none of the downsides. Proven to resist cracking in excess of 50,000 flexes, polyurethane material is versatile, easy to clean, and very affordable. It is also more resistant to water and oil than leather, which tend to be absorbed into leather material.
WHAT ARE THE OTHER BENEFITS?
Our Spendless styles have removable innersoles, which allow for the addition of orthotics or custom innersoles, so you can get the best personal comfort. Breathable mesh linings reduce feet sweating and swelling during a long day at work. You will also enjoy excellent support thanks to the firm heel counter, which allows for the best shock absorption and cushioning.
Jogger styles from the SureStep range have a padded tongue for comfort and ease of movement. Our laced styles allow for easy adjustment, so you can find the perfect fit for your size and shape.
Some of our styles, like Grip and Force, have reinforced metal eyelets. These reduce the risk of the upper tearing or creasing when tightening laces. Trade and Crew also have polyurethane uppers with reinforced top lace holes, to minimise damage when tightening laces.
Be sure of your steps with SureStep, and get the best in slip resistant shoes with Spendless!